I (Gina) wanted to start off the blog with some very great news!!
1st- WELCOME to the YKSC blog (and website)! We are still in the process of updating some pages, but for the most part it has all of our current slab inventory, remnants (still being updated) sinks, edges (more coming), and recent projects for reference. I would also like to let you know about a special page,
http://www.ykstonecenter.com/Granite-Denver-Client-Layout.htm
, there you will find the rendering of (some / recent) projects. It is a visual countertop layout that shows you your specific stone slab that you picked out,  how big  the slabs are, how the tops will fit, which pieces are being seamed, or where on the stone you'd like your island to showoff most of its character.
2nd- We are super excited! YK Stone Center was just published in one of Denver's most read magazines...
http://www.modernindenver.com/
.. It is not the first time YKSC's work is being printed, but for the first time it is an exclusive feature on YK Stone Center. We are thrilled that we have this opportunity!
With the help of all the new digital technology in the company and latest stone cutting machines, combined with our 15 year experience creating custom kitchen and bath countertops, makes us stand out from the other fabricators. "We Cut Surfaces Not Corners' is our company statement, and we strive our best to honor that on every project that we take on.  Our dedication to craftsmanship is still the highest focus, we believe in quality not quantity. With our 'Slab Smith' software we are able to match our seams almost perfect, making sure that veins of stone run accordingly and when installed- our seams are nearly invisible. Currently one of our strong points is fabricating seamless mitred edges, this type of edge looks perfect especially on kitchen island, in powder rooms, or accent furniture pieces. We have a really great fabricating crew- their attention to detail is vital in completing each piece to perfection.  Both of our Installation crews have 8 years of experience in how to properly install stone ranging from 24" vanity tops to islands that are 360" long, with mitred edging and precise cutouts for appliances and accessories.
            Well, I think I got carried away talking about our family company, this is just very exciting for us. We've been blessed with generous amount of projects and are thankful for that.
Alright, Go and get your copy of Modern In Denver, and read all about our advanced machinery and perfect installation. Page 65 Tittled "Fitting In". And after that, hope we get to meet you in our showroom for your current and/ or future projects!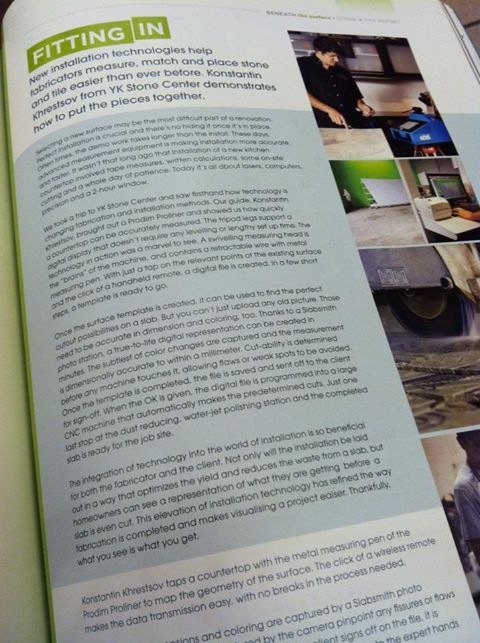 Thanks for your time, untill next time!
~Gina~
Philippians 4:13 "
I can do all things through Christ who strengthens me
".