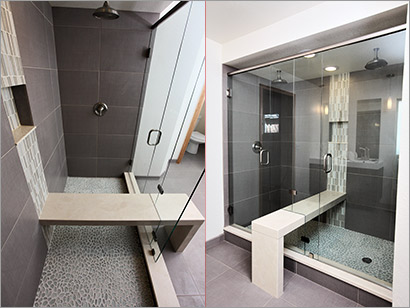 Heather B. Thornton. 01/13/2018
BEST EXPERIENCE EVER!!! I cannot thank the team at YK stone enough! Everything went so smooth and perfect from the initial visit to the shop to picking out materials to the installation and even the follow up. The team here is truly amazing; very professional, helpful, knowledgeable, polite etc etc. Also the selection of materials and options was outstanding. Thank you YK for making our remodel way easier than I ever thought possible.
Peggy Brannick. Denver. 01/11/2018
I cannot say enough about the incredible customer service provided by YK Stone Center. We used their services for our kitchen, bar area, and three bathrooms and could not be happier with the results. Truly professional craftsmen who know their business and provide perfect fabrication. It's so difficult to find quality work these days, but you will not be disappointed with this company. I highly recommend Val, his brother and their entire team.
Mike. 11/29/2017
Val, Thank you!
I centainly wasn't expecting this. You and your company went above and beyond! From Ilya, to Gina to the guys on the yard, and especially to you...outstanding customer service. We are very happy with the match, as it doesnt butt up to the existing granite. Again, Thanks.
Greg and Suzanne T. Littleton. 08/08/2017
Hello Gina / Val,
Thanks for the quick action on our repair of the counter top. The guys had to level it some and as always did a great job. We have always been so pleased with the service you guys provide. We still try to send people your way. Thanks again.
Skip W. Denver. 05/25/2017
YK just installed a 14 ft quartz countertop for us. I know there is a seam somewhere but I cannot find it. They did an awesome job.

Christopher M. Denver. 04/05/2017
I'm a general contractor and have been working with YK Stone for over 5 years now both on my clients projects as well as my own home. They are the best in Denver in my opinion. Great product, fair pricing, beautiful showroom, and top notch customer service every time. I highly recommend them.
Project Price: $1,000 - $9,999
I'm a general contractor and have been working with YK Stone for over 5 years now both on my clients projects as well as my own home. They are the best in Denver in my opinion. Great product, fair pricing, beautiful showroom, and top notch customer service every time. I highly recommend them.
Marcus Otten
. Jan 2017
Project Date: January 2017
Project Price: $10,000 - $49,999
As a professional perfectionist, I hold myself and everyone I associate with to the highest standards. I've heard several professionals in the business speak about YK. I asked Val to assist me with a special project deep in the mountains. Tying together an exquisite brilliant white marble (projecting off the island's work surface, terminating w/ a mitered waterfall effect) w/ delicate, sensitive, exotic, "Night Fusion". WOW!
Yesterday, January 27th, my client said it perfectly, "I would high recommend Val's crew to anyone."
Not only did they surpass my expectation with excellent craftsmanship, in the eyes of my client, he stood above all the other subcontractors, with superb customer service.
Looking forward to many more!! Thanks Val!
Myron. 08/24/2016
Jan and Clayton,
Becky and I want to thank you for all of the hard work you put into helping us make our kitchen so beautiful. I'm sending you a few pictures so that you can see what your hard work did.I am sending it in multiple emails because of the size of the photos.

Elizabeth W. Centennial, CO 08/03/2016
Hi Ilya –
I asked Jan for a contact at YK to send a note of appreciation for you and your staff. We worked with Jan on the selection side, Clay for the design and templating and Manny for the installation. All went above and beyond in helping us through, what has been a painful 4 months, of 3 bathroom remodels. I was not always the easiest to work with and had high expectations around timelines and Clay did an amazing job setting accurate expectations and delivering on time, and in most cases, ahead of time. Jan was so responsive and helpful in getting us the slab and pricing. We also called on her to pull some last minute shelves and she was fantastic in getting these prepared for Clay and team to get these to us in a very timely manner to keep us on track for the remodels. Manny and his crew were extremely professional and prompt for each install. They did a fantastic job and I have to say we could not be more pleased to see how our stone work has turned out in each of the 3 baths we remodeled.

This is our 2nd experience with YK. We did some updating to a prior hour before moving and now here in our home in Centennial. I would be more than happy to be a reference for YK at any time. You are clearly one of the best and most professional stone fabricators/design centers and I feel lucky to have connected with you.

Thanks again –
Elizabeth


Lila B. Denver, CO 05/19/2016
The craftsman at YK Stone came through magnificently for me. All the work has been impeccable. They are a joy ! I wish there were more stars to give them. They are smart, talented, dedicated, efficient and competitively priced. Who could ask for anything more.
Genelle W. Denver, CO 02/01/2016
Dear Ilya,
Your company could not have handled an unfortunate situation any better for me, the customer. Thank you so much. The two young men who came out twice for installation were so professional, kind and caring. They did a great job. I would recommend your company to my friends, family and anyone wanting a stone company to come into their home.
Thank you Ilya


Sally Z. Denver, CO. 01/19/2016
Thanks so much for sending the guys over yesterday. As always, you are super fast. And they did a great job. Been a pleasure working with you and your team.
Design Platform
. Jan 2016
Project Date: January 2016
Project Price: $1,000 - $9,999
We have used Ilya and YK Stone on several projects in our portfolio. They have done incredible work. They are great with communication, scheduling, and the installers are very clean/respectful/knowledgeable. I can not recommend them highly enough.
Design Platform
Project Date: January 2016
Project Price: $1,000 - $9,999
We have used Ilya and YK Stone on several projects. They have done incredible work. They are great with communication, scheduling, and the installers are very clean/respectful/knowledgeable. I can not recommend them highly enough.
Lucid Studio Design
. Nov 2015
At Lucid Studio we pride ourselves on creating unique spaces that express the value of careful planning and meticulous detail. We rely on our trades and vendors heavily to help us create and fabricate our vision. YK Stone is one of my favorite vendors because their desire to deliver a quality product aligns with our vision as both the Designer and the Contractor, and their reliability is something that is very important in today's construction world! We have become very loyal to YK, as I do not trust anybody else with our projects after working with them on multiple projects now! As a Designer, I know I can count on Konstantin to find a way to fabricate all of the little details I desire- and they are installed with perfection, every time! Konstantin is always working to get us the best finished product, while offering very fair prices. I am very grateful for him, and his team, for helping us achieve a level of craftsmanship that we hold great pride in. Looking forward to working with them for many more years on many more projects!
Jamie Z. Denver, CO. 10/30/2015
Hi Gina,
I was just about to call you. I want to thank you for all your help. The Quartz piece looks awesome and we couldn't be more happy with it. The guys who installed it yesterday were very nice and we appreciate everything!! Thanks again for making the process so easy for us. It was very nice working with you. Take care!!

Comstock Design., 09/24/2015
Project Price Range: $10,000 - $49,999
YK Stone Center did the procurement, computer graphic layout, fabrication and installation on the "Calcutta Marble" on the remodel of my own kitchen. They are perfectionists of the highest order and exhibited their professionalism throughout the entire process. This included "book-matching" the intricate detailing I'd designed for the top and side of my peninsula and a double mitered detailed around my range area...Highly recommended!
Robin Dobbs Interior Design., 07/30/2015
Recently I remolded my master bathroom with the help of YK Stone Center. I chose to use YK not only for their fine reputation but because I have used them for several of my clients. The experience was as I expected, incredible. If there was a concern the owners addressed it immediately and worked toward the solution. I am happy to say that the project turned out beautifully. Please find attached photos. We are already working on another project together, I am very pleased!
Sincerely, Robin

William H., 06/24/2015


I was doing a tear out and re-do from a previous installation that was poor at best from stonetops4...., very shoddy work. Val came to my house and treated me as if I was spending a million dollars. He did all the measuring with state of the art equipment and told me he will do it the way it should have been done in the first place. Did they ever. It was also nice to see an image of my layout and able to pick from a few renderings before they even cut the granite with the latest water jet equipment. Installation was profession and top notch as my cabinets were off but not any more. In the future I will only make one phone call and that will be to YK Stone! Im glad I found them and will also use them as a reference for family, friends, neighbors, anyone who asks if they ask me if I know anyone who does granite.. Thank You.



Kevin L., 06/18/2015
Gina, fireplace harth- it's in and it's beautiful. Val was great. It's been a real pleasure working with you. We are very happy.

Don C., 06/09/2015
Konstantin,
The granite looks fantastic. The seams are amazing, the cooktop bevel is perfect and the overall fit and finish is top grade.
Thanks for all your work.

Robin D., 05/28/2015
Good morning Ilya,
Just want you to know your installers (Misha) have done a wonderful job on the tops. I really appreciate all you have done. I will call This morning to take care of the bill.
Thanks again.

Shelli & James., Littleton CO., 05/27/2015
Good morning Gina,
I just wanted to thank you so much for all your help. They (installers) came on Friday and installed the new counter top, it looks great. Your team did an amazing job.

Anthony H., Brighton, CO 04/23/2015
My wife and I have always been a fan of YK Stone Center. We have been finishing our basement and I called them up. GIna and Val had me come down to see what they had available in their yard. I looked a while for counter tops that would go really well. They were extremely helpful and showed a great deal of patience with my picky taste. I couldn't have had a better experience. Gina, Val and the entire YK crew were very professional.

Karla S., Denver, CO 03/12/2015
I'm an Interior Designer and had YK Stone Center fabricate countertops for my own house. I worked directly with Val Khrestsov. Val is incredibly professional, responsive and even offered excellent suggestions. My kitchen has a complicated angled wall, peninsula top area and YK's measurements were flawless. The counters align with the walls perfectly and the seam is barely noticeable. I'm so impressed. The installers were very professional as well. I found out after working with YK that they're actually an award winning countertop fabricator. I didn't know this at the time but thought it'd be worth mentioning here. My countertops (Ceasarstone Quartz) look fantastic and I can't thank YK and Val enough for a job well done. I couldn't be happier!

Kate M., Denver, CO 03/09/2015
Hi Val and Ilya,
Just wanted to say thanks for sending your guys on a Saturday to do my install. They did a great job, the seam looks incredible - I have to look really hard to even see it!

Patty H., Denver, CO 12/09/2014
Ilya
Thanks for the email. We love the countertops and could not be happier.
Thanks again and happy holidays.

Denyce D., Denver, CO 12/01/2014
Hi Ilya,
Thank you for the call this morning. I'm sorry that your volcano slabs are so much darker than the ones in my kitchen, but I'm glad Arizona Tile still had the third slab that matches the two I have.
Thank you again for all your help and your huge effort to get the countertops in so my kitchen would be functional for Thanksgiving. You really went above and beyond and you were very gracious throughout. I now understand why you are so highly recommended.

Don and Connie S. Denver, CO., 10/27/2014
Gina, enclosed are a few pictures of the granite in our kitchen and shelf. Conni and I are very happy with the selection of granite. We are also happy and lucky to have chosen your company for the installation. We are pleased with the advise you gave us. It was pleasant working with you and Val. Take care, as soon as we become "thousandaires" again, we'll start on the fireplace mantel and bathrooms. So you will see us in future.

Amannda A. A&D Consultant, Caesarstone USA., 08/28/2014
Wowzers! Beautiful!
Jennifer, I hope you LOVE it! I'm sorry it was such a long wait but it looks amazing and I hope it was worth it!
Great job Ilya! Thank you!
Jennifer K., Denver, 08/28/2014
--> Oh my. I'm beaming. It turned out beautifully. Thank you both.

Betsy and John K., Denver, 08/13/2014
BEAUTIFUL JOB! Esley and his dad were efficient and did a great job in installation. The seams are almost invisible...amazingly beautiful.
Thank you again for your continued interest in our home.

Tanya, Denver, 06/24/2014
Hi Konstantin, Just wanted to say THANK YOU. I was a little worried it wouldn't come together, but it did, and I am very happy with the results! Thank you for the design suggestions with the granite choice, island detail, and the overhang bar. Love it! Also really appreciated the professionalism of your installers. They were very polite, took great care of my floor, and did a beautiful job. Thanks again!
Nicholas M., Broomfield, CO 05/22/2014
YK took the time to cover what was important to us. They came out to our home and listened to what our needs where and made sure to incorporate them into the final product. We were very pleased with the overall selection their showroom has to offer. It definitely helped us in our decision making process. We love our kitchen and I would recommend YK to anyone.





Tatyana Z., Arvada, CO

5/02/2014




Brand new digs thanks to the YK team.

A few years back I bought a dingy, gross condo in need of some serious TLC. Honestly, I didn't know jack about remodeling and was learning as I went. When the time came for granite, tile and back-splash YK was recommended to me by a friend. The shop is very stylish with an extensive inventory. Their designer, Kate, was really great to work with. Instead of pushing her design opinions or trying to make a quick sale (like many I've experienced whilst remodeling), she listened to what I wanted and worked with my style.

My kitchen is tiny. Like really really tiny. Bilbo Baggins tiny. Eli sat with me and brainstormed on how we could move around appliances and cabinets to maximize my counter space. Even if I didn't buy anything from them, I would still leave there totally satisfied with the amount of time they spent helping me create this new home.

We all know that remodeling is outrageously expensive. YK worked with my budget and I didn't have to compromise on style.

Finally, I am not embarrassed to invite people over for dinner.

If I ever scrape up enough money to buy another property, I'm headed to YK first. Thanks guys!



Katie D., 05/08/2014
Install went very smoothly. Loved the guys who did the work. And most importantly, love, love, love my counters!!!

Margo D., Lakewood, CO 02/28/14
Our contractor introduced us to YK Stone Center and we couldn't be more satisfied with our decision to use them for our kitchen counters. YK was efficient, on time, and eager to please. Our questions were answered in a timely manner. ALL of them. In turn, questions were asked of our project that we hadn't even thought about. It was nice to be confident in our counters BEFORE they were put in. All in all an excellent experience!

Shirli Sensenbrenner, VP of Design & Construction, DH&R, Englewood, CO 09/13/13
Returned home last night to find our new counters installed. WOW is all I can say! They look better than I expected and you are right, we can't even find the seams! I am planning to submit our kitchen for some design awards - I will let you know how it goes. Much appreciate the good work.

Nate F., Denver, CO 08/27/13
Ilya, Thanks so much for getting this turned around so quickly. Seriously, I've been eating in my basement for almost three weeks and it could have been another three weeks had it not been for your hard work. Thanks again and let me know if you ever need a reference customer.

Don E., Denver, CO 08/26/13
Team YK, thank you so much for the display top and help with our Neolith Booth! It looks awesome! What a professional job. Val, you and your crew really worked hard to get this in and covered some adverse conditions with the shape of the aluminum. The miters and seams look fantastic, what a great way for us to show the product. We will be sure to let every one know that YK fabricated and installed it, we will post this online as well. Thank you all again for the help and support! Please do not hesitate to ask us if ever we can return the favor. Best regards.

Karen G., CO 08/20/13
Hi Ilya, Great service, boys have been here and repaired things. Thanks for such prompt attention to this. Happy Sailing!

Angie G., Denver, CO 08/16/13
Just saw this. Installers are here and the countertops look beautiful!! I am sitting here with a big grin on my face!

Todd A., Dillon, CO 8/14/2013
Val and his team at YK were amazing. Having recently moved to Colorado I was looking for someone to install new granite in our home in Dillon. My neighbor who owns Raptor Construction gave me their name and told me they were the best in the business. YK was wonderful to work with from the beginning to the end. Val came to the house to measure and emailed us many granite options. We went to their showroom in Denver to make our final choice and everyone was so nice and friendly. The install was awesome as the team tore out the old counters and installed the new. They cleaned up everything and hauled all the trash away. I couldnt be happier with the job and how well our kitchen looks now. I am sure our house doubled in value over the price of install. I would highly recommend Val, YK and the their crew. These folks know granite.
Paul M., Denver, CO 3/7/2013
My undermount kitchen sink fell out (it had been improperly installed by the builder). After trying unsuccessfully to get several companies and handymen to fix it, I finally found YK Stone. They responded promptly to my phone calls. They got me on their schedule right away. They showed up on time and as promised. They got the job done in less than an hour. And, they even fixed a couple of chips in my granite countertop that I hadn't even noticed. They did all of this for a very reasonable price. I would recommend them to anyone!

Louise H., Denver, CO 3/6/2013
They were very good at the measuring and the installation.We had a challenging installation removing old counter tops, but they did a good job. I did have to follow up to get a date scheduled rather than them calling me, but the timing worked out fine. They are very nice and easy to work with.

Judy L., Conifer, CO 2/16/2013
We have now worked with YK Stone for 3 remodels - a master bath, a kitchen, and a hall bath. The master bath was first, a simple countertop with backsplash and 2 under mount sinks. YK was quick, professional, and very affordable. We went back for our kitchen, which involved over 100 sq feet of granite countertop, a huge undermount sink, a bar sink, and a cut out in the peninsula for the slide in range. It took 5 huge pieces of granite which were expertly cut and installed and you have to really know where to look for the seams. Again the price was great compared to other vendors! This week we picked out a remnant for a hall bath and Konstantin came up to measure, install, and came back to tweak it after I decided I wanted some edges smoothed out. All done quickly and expertly. We have one bathroom to go and these are the only people we will use! Everyone at YK is the best!

Patrick C., Denver, CO 2/12/2013
As a house flipper, I depend on quality, cost-effective workmanship from the sub-contractors I hire. With YK, they not only gave me a really good price on the granite I was looking for my kitchen but everyone from Val and his brother at the shop to the installers were first rate, professional and ready to assist with any issues. Case in point: the installer forgot to grab the old counter tops. I told Val when he called me 30 minutes after install and he was there with his truck to load it up and take it away within 20 minutes. Frickin impressive operation, great (and experienced) installers and one really nice granite counter top. I'd recommend them to my mom...and anyone else.

Mindy B., Denver, CO 2/12/2013
AMAZING!!!! We renovated our house in the mountains and had terrible experiences with all the other sub-contractors except YK. I think this is in part because I am so picky! YK did a fabulous job on the granite and it was even in quicker than we expected. We priced 3 other places prior to going to YK (at our designer's recommendation) and they were the most reasonable! You MUST go to YK! You will be as happy as we are!

Ryan P., Aurora, CO 1/6/2013
YK Marble did a great job on the granite countertop in my basement bar. The configuration was somewhat complicated and Val did a perfect job with the layout minimizing the seams. He offered some great suggestions regarding the corners and edges which I would not have thought of. The install team was also great. I love my new basement bar. I would recommend Val and YK Marble to anyone.

Meagan C., Aurora, CO 1/5/2013
My husband I have been looking at marble for months. YK Marble was the only place we were really comfortable. They have the perfect slab that we wanted. The only problem was, our kitchen needed 2 slabs, but we weren't going to need the entire 2nd slab of granite. Other companies we looked it required for us to buy the whole 2nd slab, they told us we can either sell it, keep it in the garage or they would buy it back from us at a different price than what they sold it to us for??? But YK MARBLE made it work they combined a couple order together and we only had to buy just what we needed. It was cheaper!! They are very responsive, answered all our questions and were very patient with us. The color is magnificent. The installers were delightful. They can work in our home anytime. They were professional. Went of the cleaning recommendations with us and even left us some cleaner! We are hoping to move in the next few years and when we do. I know who we are going to for our countertops. THANK YOU!!!

Joe M., Littleton, CO, 8/28/2012
My husband and I are absolutely thrilled with our newly remodeled kitchen and the wonderful work performed by YK Stone. From the first appointment we had with Konstantin, we could tell that YK's work would be far from "ordinary." Their granite selection was most impressive, their showroom breathtaking, their ideas and suggestions fresh and modern and--best of all--their costs were below what we were prepared to spend to update our 18 year old kitchen. Look no further; this is the company you want if granite countertops are in your plans. You won't be disappointed!

Chip P., Denver, CO 8/21/2012
My girlfriend and I recently remodeled a house in the Virginia Vale neighborhood of Denver, and YK installed new soap stone countertops for us in the kitchen. The stone is beautiful, the craftsmanship and installation were spot on, and the timing was great. They were thorough throughout the process, including the follow up afterwards. I highly recommend them!

Anya M., Denver, CO 8/1/2012
My husband and I just bought our first home (a very out of date townhouse). We had YK redo everything, and it turned out better than I had hoped! Even though it is just a "townhouse," with all of YK's work it feels like a penthouse or a designer hotel! I seriously cannot believe it's all mine, especially after being in dumpy rentals for so long :) They did our tile floors, our sinks, granite countertops, backsplashes, and wood cabinets. We even have a super tiny powder room that they custom designed a floating sink for that is so cool, since it was too small for a regular layout. I had never done any remodeling, but Eli and Kate were really helpful in explaining how things would turn out and helped me look at samples they had and pick things that would match the look I was going for. They were very friendly and it wasn't intimidating at all (as some construction things can be). Whenever we upgrade to a house we are definitely going to use them again, and I'd recommend YK to anyone wanting to redo their home (or condo or townhome - they'll make your place look awesome even if you aren't in a mansion!)
To see more praise for YK Stone Center, visit our Yelp page
here
.